Sculpt your facial structure, increasing radiance with the amazing Gua Sha. This Ayurvedic designed tool helps to reduce the appearance of fine lines and wrinkles, through massaging, tackling the marma points beneath your skin. Support a healthy dosha balance and bring symmetry to your facial structure.
Where it all began
The medicinal healing practices in India are known as Ayurveda, in China they're know as Traditional Chinese Medicine. Dating back centuries, the entire Continent was called Indochina and Medicine could not care less about political frontiers and historical prowess.
Techniques were created to encourage the healing process of the human body and increase longevity of life itself. You may have come across some of these, acupuncture, Marma, yoga asana, pranayama breathwork, meditation, tai chi, sound baths, Abhyanga massage and Gua sha. The list goes on.
Gua Sha with Abhyanga massage
I would like to focus here, on the techniques known as Marma with Abhyanga massage and Gua Sha.
Combing them results in some wonderful benefits.
Among all the traditional benefits that come with Ayurvedic treatments, incorporating the Gua Sha provides a multitude of benefits when used with correct and consistant use.

BENEFITS
Removes heat and stagnation within the body, the cause of many diseases, pain and inflammation.
Firmer healthier skin – improving circulation and increasing collagen
Support blood circulation, promoting better function of red and white blood cells
Eases muscular tension
Renew cell growth and reduce the appearance of fine lines and wrinkles
Eliminates toxins by improving the lymph system.
Stimulate the immune system
What you will need
Ayurvedic Facial Oil: Beauty blend 20ml
Gua Sha Rose Quartz Stone tool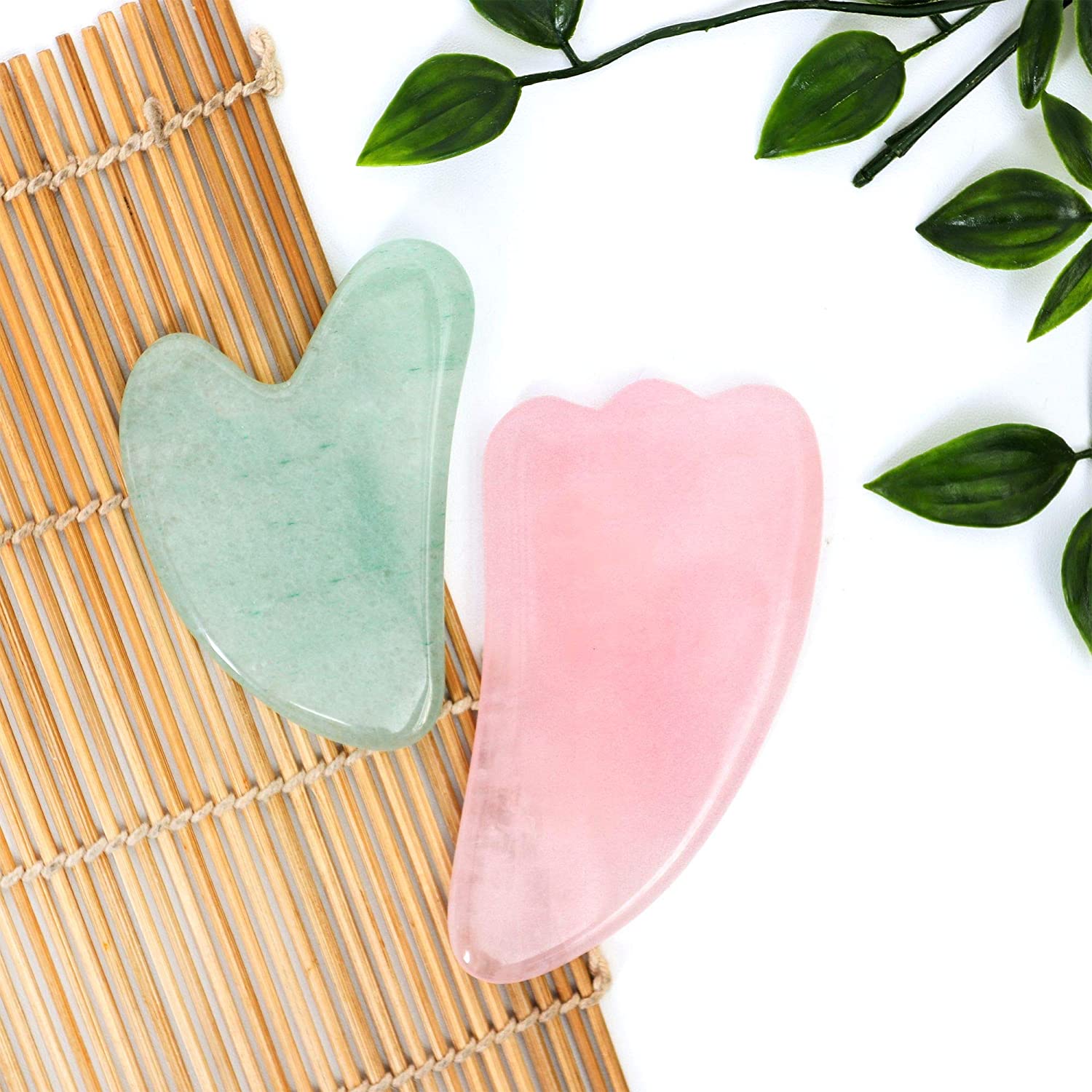 Take the 'Which Gua Sha stone are you quiz' here
---
How to use
Preparation: Begin by applying the oil into the centre of your palm, creating a small cup for oil to sit in and warm. o your face and neckline.
Process: Starting with your forehead, using the curved side, make upward and outward strokes. Next, on your eyebrows, make small strokes from the centre of your forehead to your temple. Followed by horizontal strokes over the brow bone. Moving on to the area around your eyes, press the flat side of the Gua Sha under your eyes or over any redness. Then sweep it from the corner of your nose to the middle of your ear. Coming down to your chin, gently move the tool from the middle of your chin, along your jawbone to your earlobe. Then up from your throat towards your face, following the soft area of your skin. Finally, stroke down the neck, never upwards, to drain lymphatic fluid.
Aftercare: rinse the Gua Sha with Luke warm. Water and wipe down with a dry or cloth. Do not wash with water and soap.
HEALTH COACH CHECK-INConnect with Amy Reyes our in-house Health Coach.
Advice, diet & routine tips.
FREE session (worth £‌94.00)
These statements have not been evaluated by the Food and Drug Administration. These products are not intended to diagnose, treat, cure, or prevent any disease.
SIGN UP FOR OUR NEWSLETTER
 SIGNUP
ABOUT USABOUT AYURVEDASUBSCRIBE & SAVEDELIVERY & RETURNSMA REWARDSCAREERSMA & VEDA HERBSFAQCONTACT USPRIVACYTERMSREFUND POLICYPRODUCT SAFETYAFFILIATE PROGRAM